●Danza Permanente
●Stitchomythia
●Improvised Duos, William Winant and Zeena Parkins
●Improvised Duos, Brian Chase and Zeena Parkins
●Improvised Duos, Dawn Kasper and Zeena Parkins
●Music For Merce: A Two-Night Celebration
●Pauline Olivers/Zeena Parkins/Michelle Grabner
●Clocktower: Music/Dance/Image
●Christian Marclay Festival
●Regeneration
●Weightless Animals
●Yasanoe Tone
●Live Scores for Films
●ENTER: Sonic Tank
●after ZL for HF
●Dark Part
●Polychonic Projections
●$Shot, Volume Bed of Sound
●B-Sides: 16 Feet and Cello, HUP!, Flush, Blue Noon
●Janene Higgins, Zeena Parkins: Sound.Image
●Janus Circus
---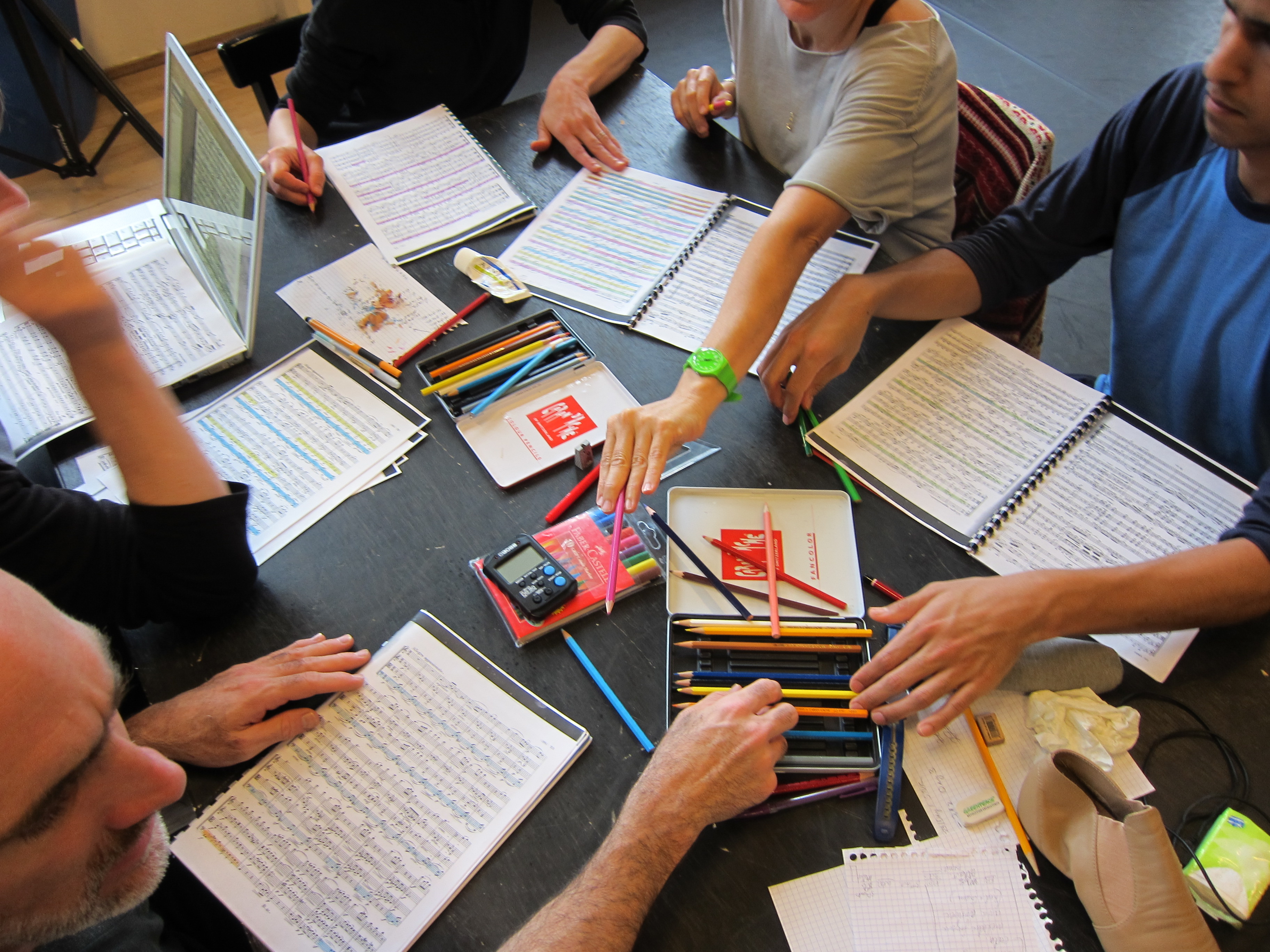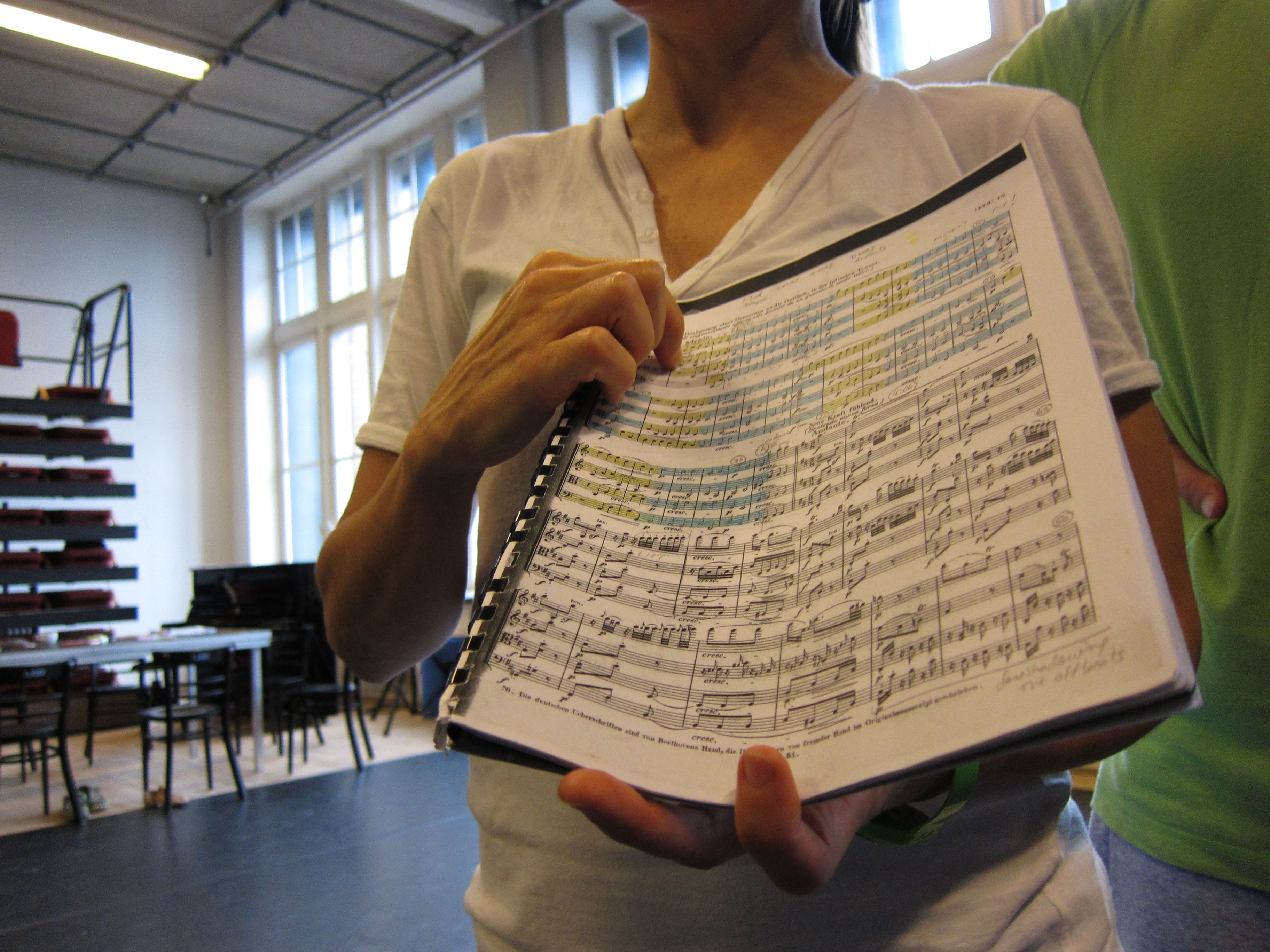 Danza Permanente
2012, reprise 2019
DD Dorvillier and Zeena Parkins — choreographer
---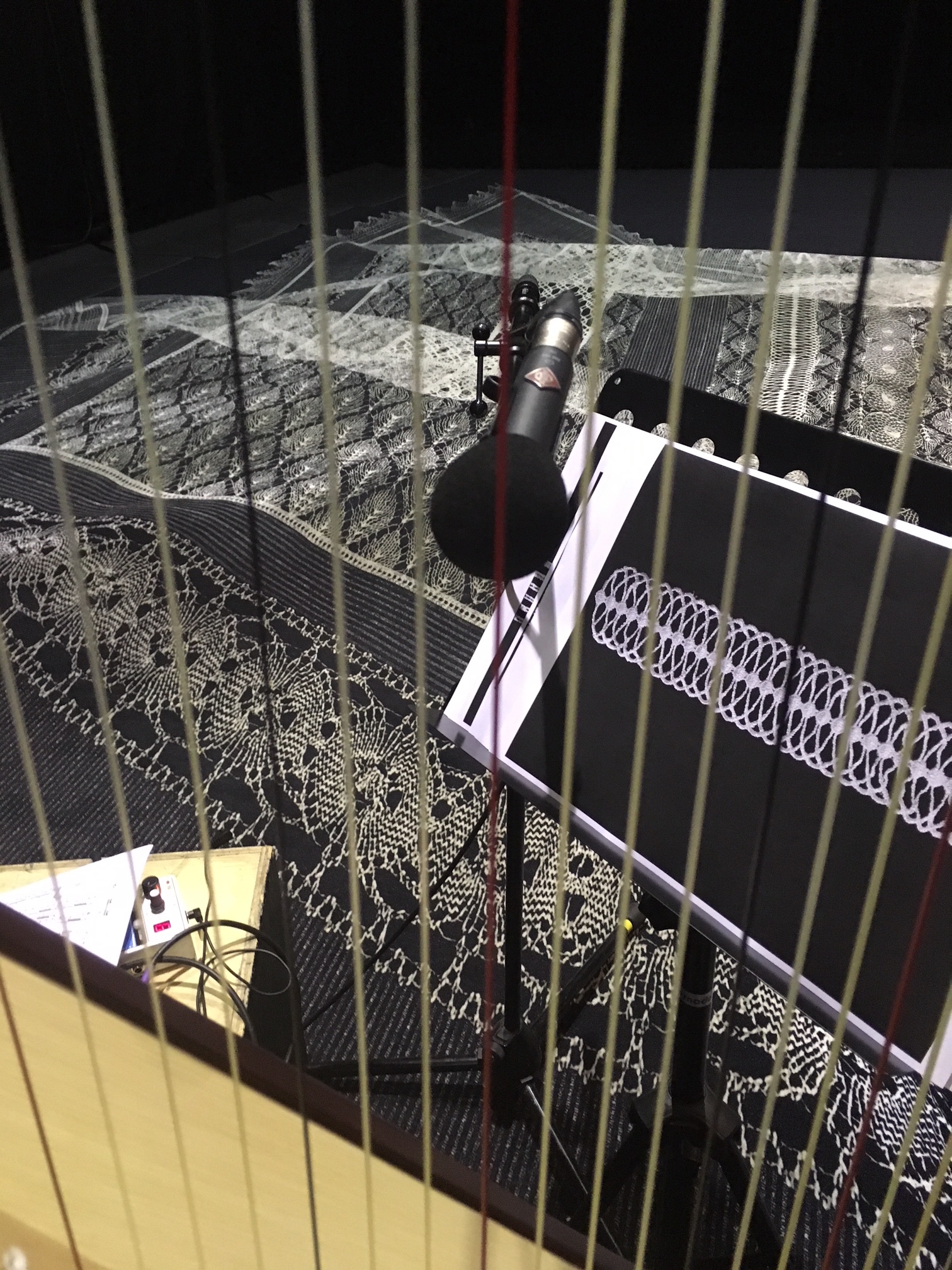 2018-2019
Serralves Foundation
, Porto
Centre Pompidou
, Paris
Nadia Lauro and Zeena Parkins — visual artist
Zeena Parkins — concept, ac. harp, electronics, feedback machine, 10 loudspeaker diffusion, Foley
Nadia Lauro — concept, design, lights
Volmir Cordeiro, Latifa Laabrissi, Stephen Thompson — visitors
The convergence of interests and respective research on the question of the motif and the ways in which it is perceived have led composer/performer Zeena Parkins and the scenographer Nadia Lauro to jointly develop the visual installation and musical performance
'Stitchomythia'
.
'Stitchomythia'
is an anamorphic carpet designed for performers, whose optical motifs, the topography in anamorphosis - and the perceptual disorder that emanates from them - constitute a musical score unfolded at the scale of the space.
'Stitchomythia'
follows the paths of 'Anamorphic Rug', a previous installation created by Nadia Lauro and inspired by Stanley Kubrick's 'Shining'. The two-dimensional carpet gives the uncanny illusion of folds, hollows, waves, hills and ground movements. An anamorphic fiction, this carpet constitutes an optical device governed by the laws of "the art of the secret perspective" resulting in a perceptive ambiguity for the viewer, between the visual illusion of a landscape in relief and the bi-dimensional reality on which the performers evolve.
Additionally,
'Stitchomythia'
is the newest installment of 'Lace', an ongoing project that Zeena Parkins began in 2008, based on a collection of lace fragments. It is a multi-movement composition that proposes lace as a score which viewed from varied distances is perceived as picture, with patterns toggling between near and far illusionary points of view.
Within this topography there is a solo performance of Parkins on acoustic harp, a feedback machine dispersed in ten speakers, a tremelo that shakes the room, and field recordings from various lace ateliers: quiet whispers discuss cross and twist actions, and the sound of wooden bobbins bounce against the firm lace pillow. The peripheric space is animated and the anamorphic carpet, which provides Parkins with her scores is networked with 'visitors' that mark a spirit-space filled with the psychologic inquires of a deep dive into the obsessional work of lace-making and its economy.
---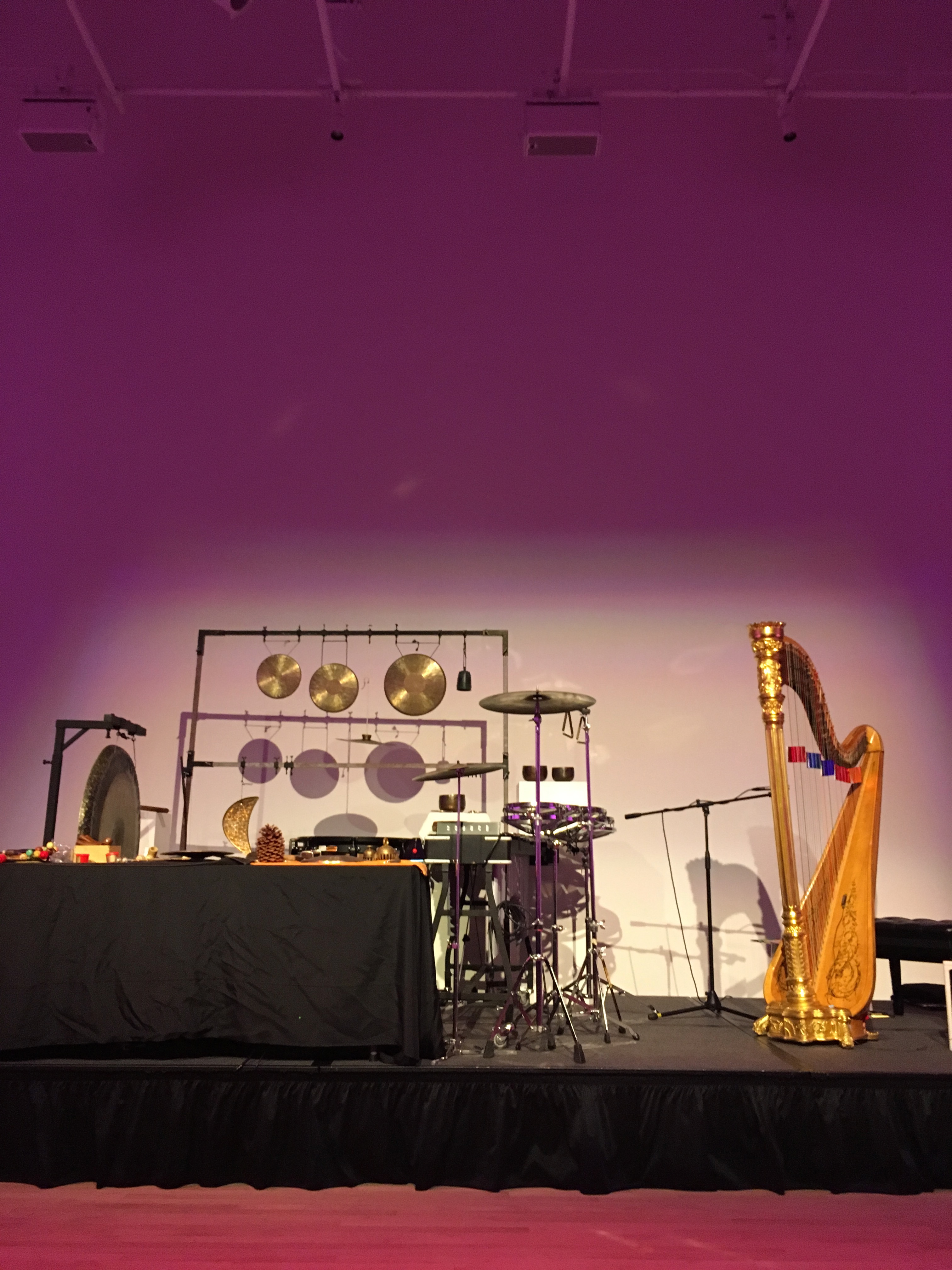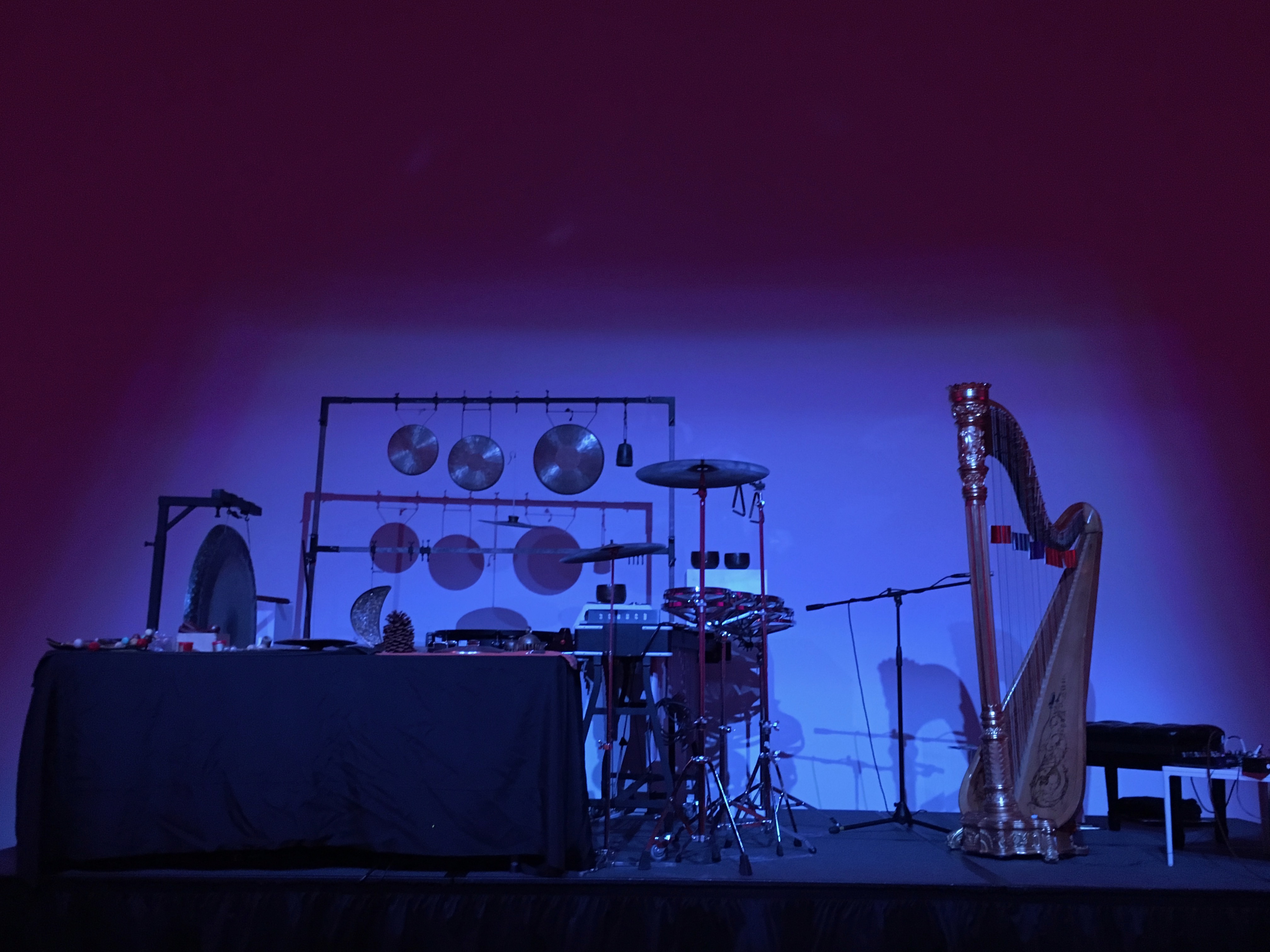 Improvised Duos, William Winant and Zeena Parkins

2016-ongoing
William Winant — orchestra percussion
Zeena Parkins — acoustic harp, electronics
Multiple performances including:
Music for Etel Adnan
Sept 2018
SFMOMA
Music for Minor Planets
Jay Heikes
2018
Berkeley Arts Museum
---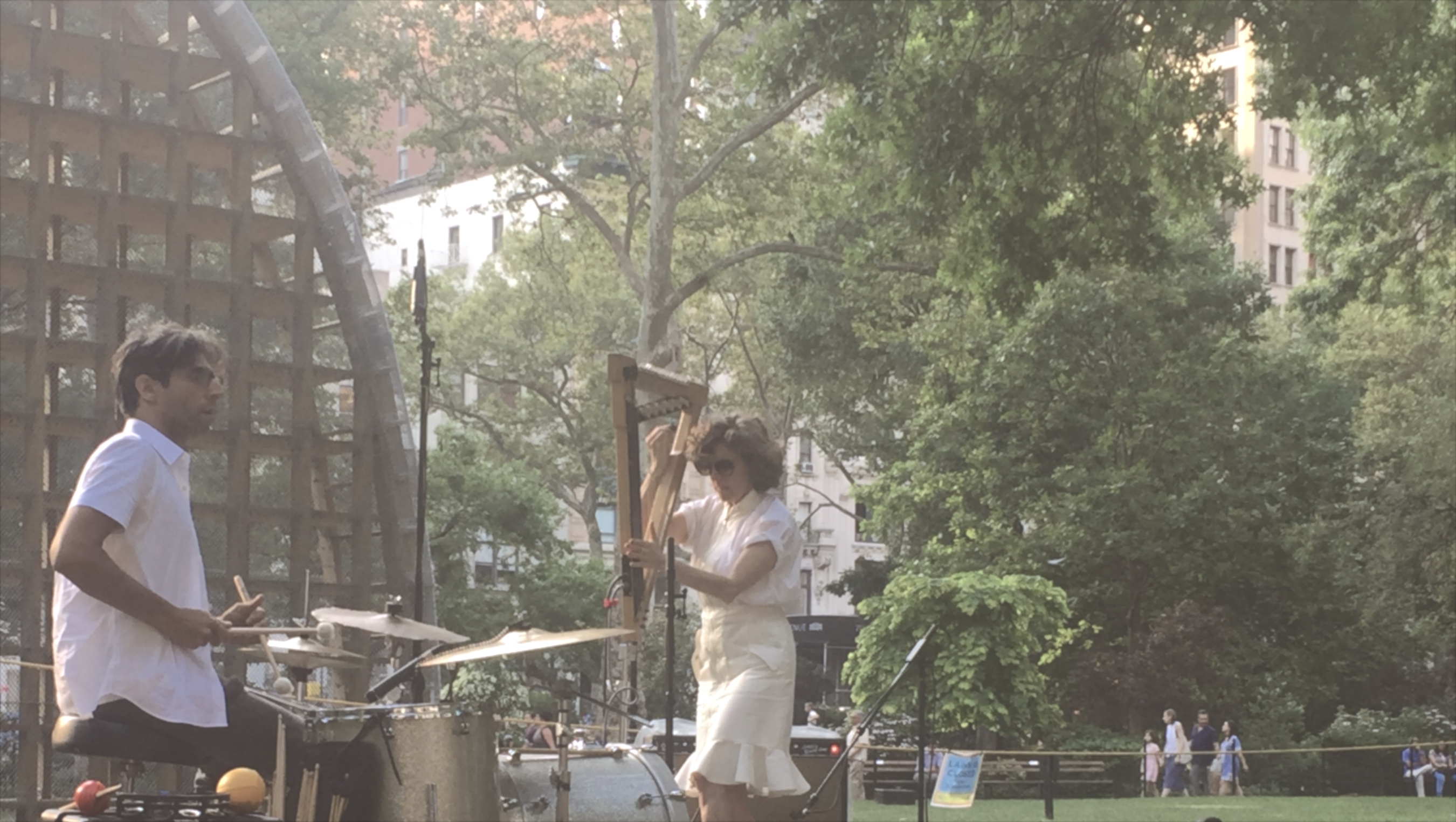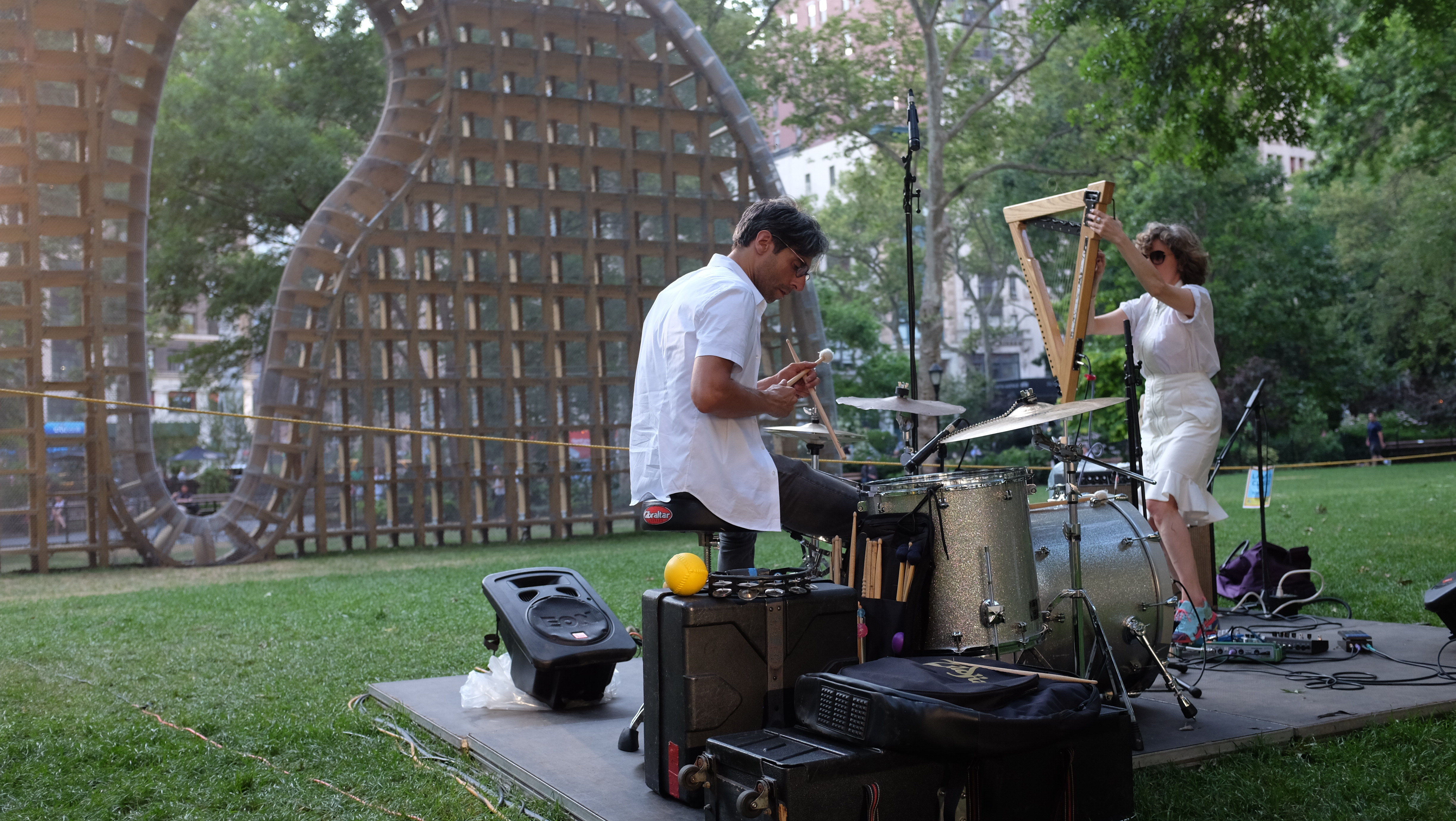 Improvised Duos, Brian Chase and Zeena Parkins

2015-ongoing
Brain Chase — drums
Zeena Parkins — acoustic and electric harps
---
Improvised Duos, Dawn Kasper and Zeena Parkins

2018-ongoing
Dawn Kasper and Zeena Parkins — visual artist
Dawn Kasper — field recordings, electric guitar, processors, flutes, text
Zeena Parkins — electric harp, tabletop acoustic harp, tuning forks, objects, synths
Performances at Aréte in Brooklyn, David Lewis Gallery in NYC, Portikus in Frankfurt
---
Music For Merce: A Two-Night Celebration
---
Pauline Olivers/Zeena Parkins/Michelle Grabner
Lucky Kitchen and Fundação Serralves, Series 001

2015
Lisbon, Portugal
Two Solos Exhibit and LP
"Lucky Kitchen was a legendary experimental sound publisher beginning in New York in the 1990's, drawing to a close in Barcelona in the mid- 2000's. Lucky Kitchen has come back only for the purpose of producing the Presença Series of 12" vinyl editions to highlight and preserve select recordings from the Serralves Foundation archive.
The experimental sound program running at Porto's Fundação Serralves is one of the most expansive and important in Europe. It was with great pleasure that the curator of the program, Pedro Rocha, and the artists Bergman & Salinas worked with the archive of the Serralves program to highlight and preserve select recordings from the Serralves archive.
The first edition, artwork by Michelle Grabner and design by Remco Van Bladel, features the sound work for Pauline Oliveros and Zeena Parkins
Pauline Oliveros — excerpt from a concert recorded September 10, 2001
Zeena Parkins — excerpt from a concert recorded February 15, 2004"
---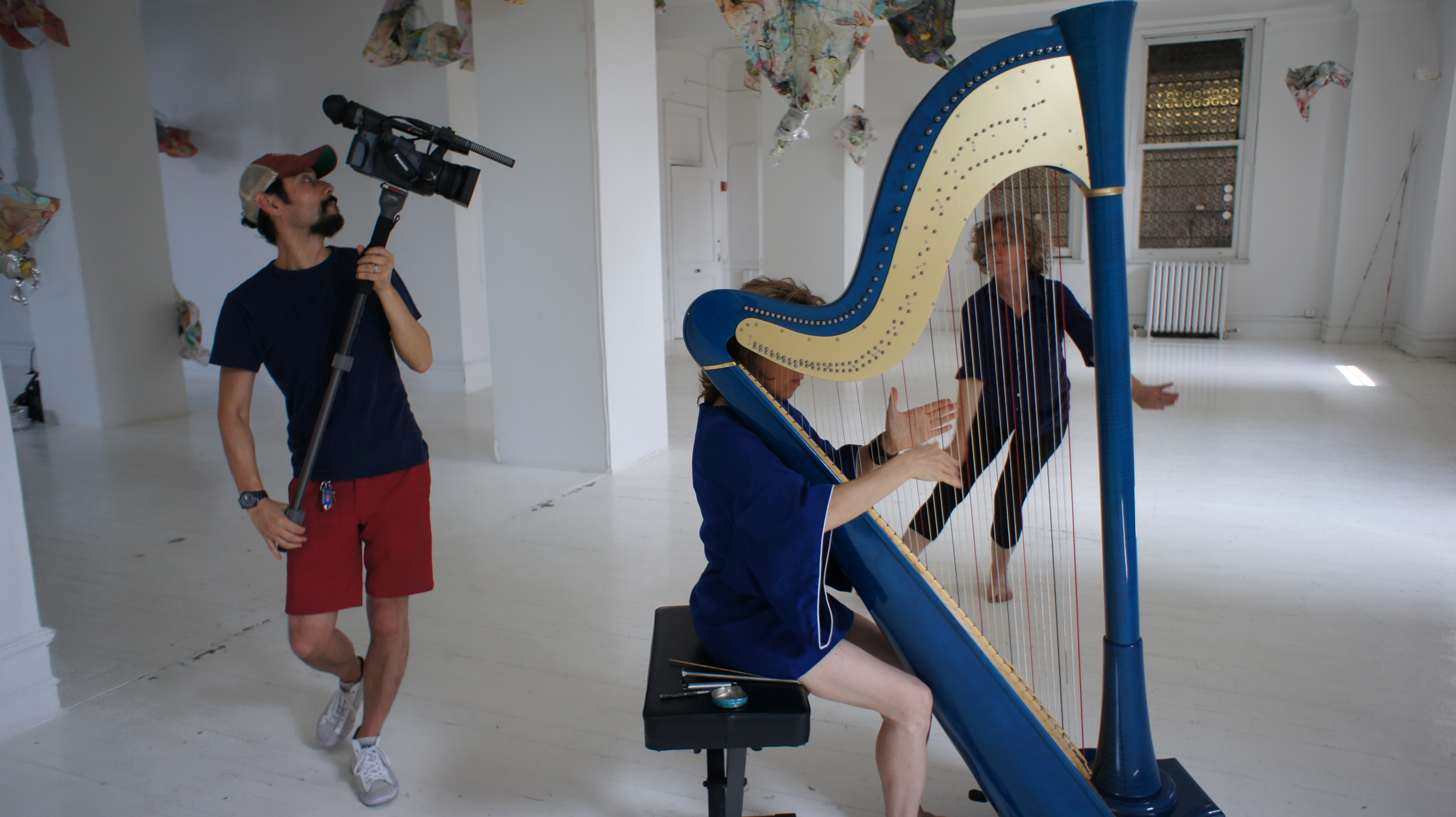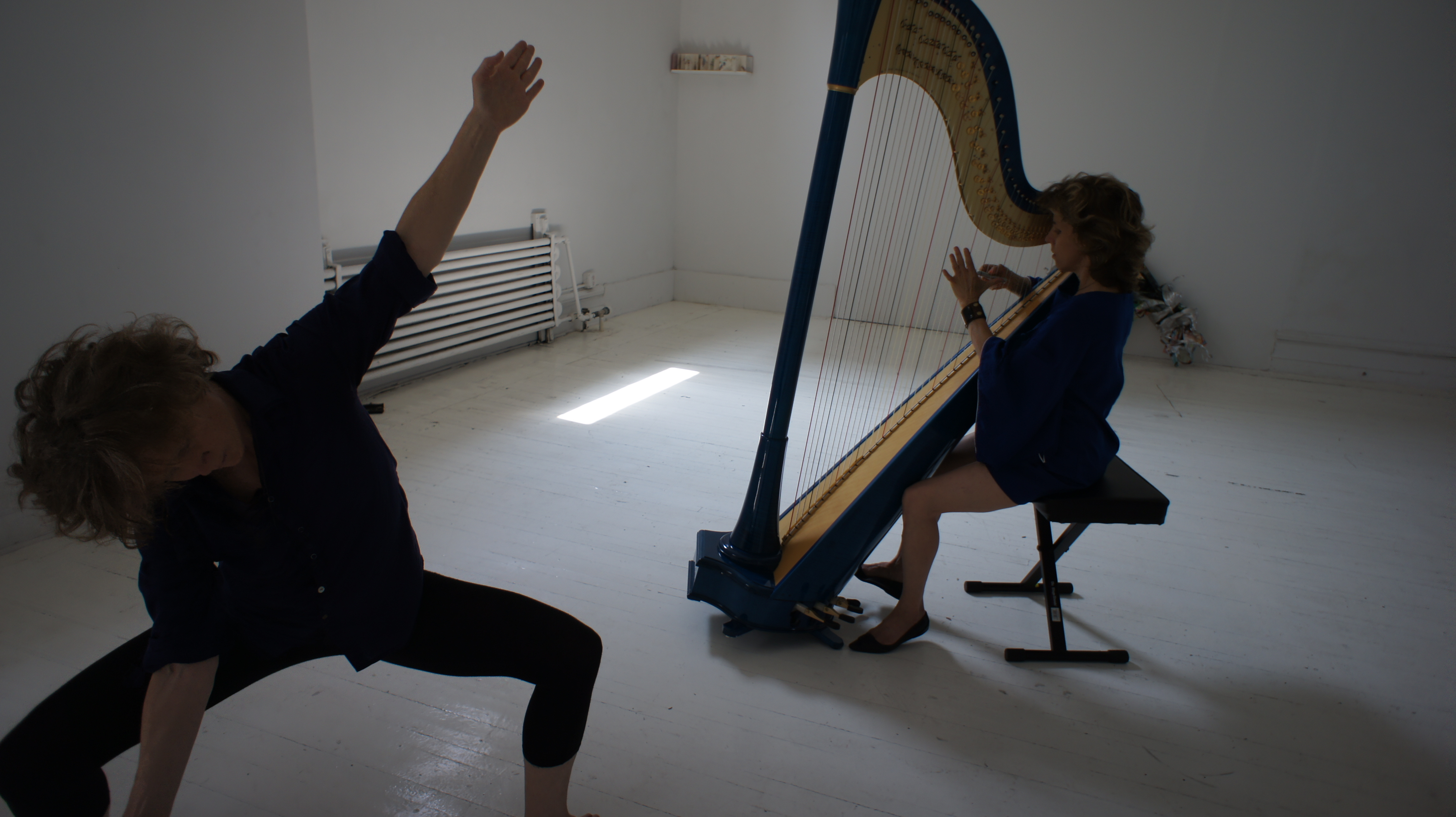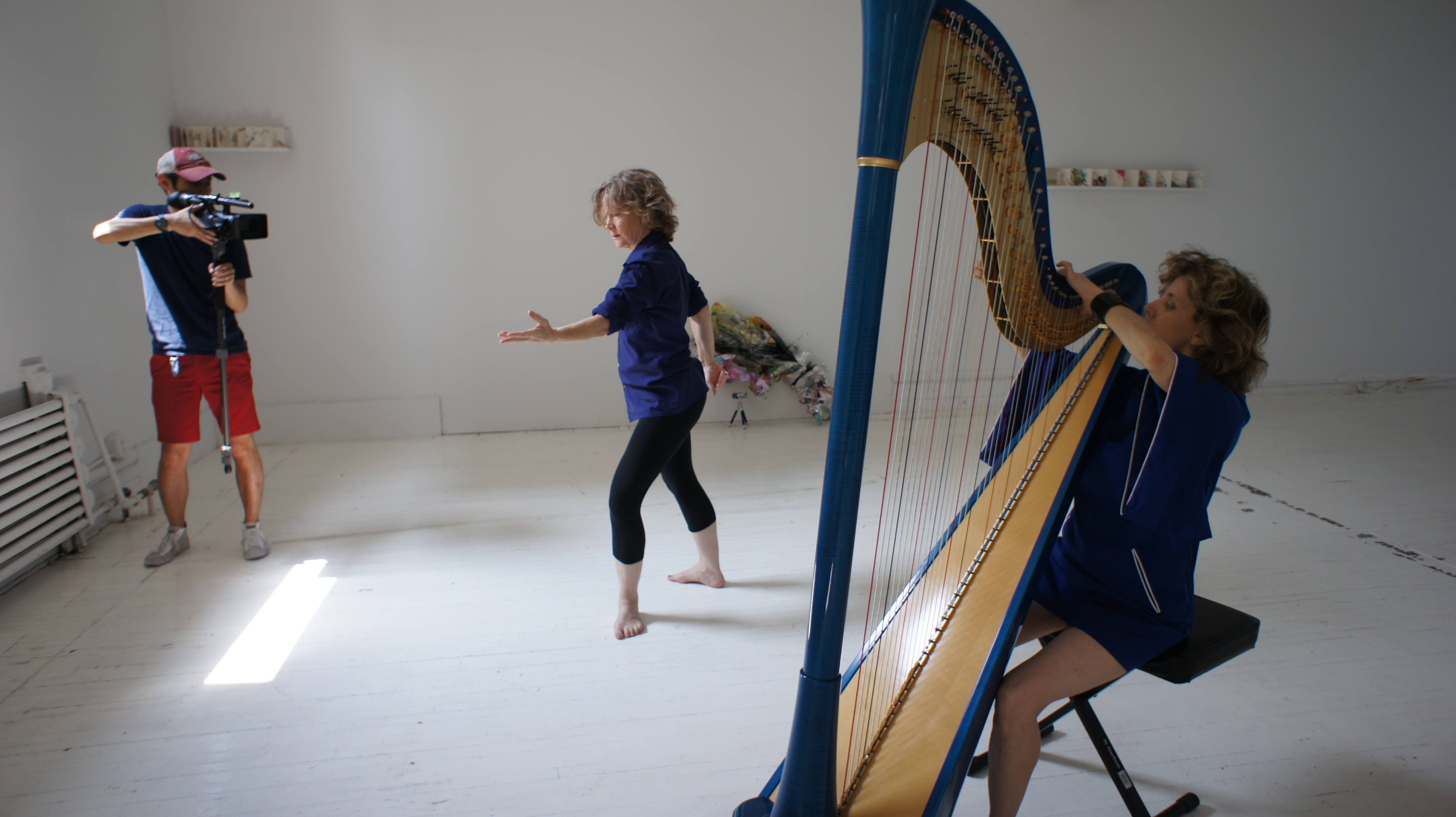 2012
Jennifer Monson, photographer Ryuturo Mishima, Zeena Parkins — choreographer
Clocktower Residency, NYC
---
Christian Marclay Festival

2010
Whitney Museum of American Art
Featured artist during the festival organizing and performing numerous Marclay compositions including
64 Bells and a Bow
,
Screenplay
,
Covers
, and
the Bell and the Glass
, Whitney Museum of American Art, NYC 2010
A week of curated performances
Artist talk with choreographer Neil Greenberg
---
2006
Daria Martin and Zeena Parkins
Site specific performance installation with visual artist Daria Martin
Tate Modern for the Tate Triennial — commission
"Regeneration ultimately acted as a kind of 'sensing machine', even a microcosmic city, in which organic, artificial and electronic life intertwined."
---
Weightless Animals

2004
Kaffe Matthews (London), Mandy McIntosh (Glasgow) and Zeena Parkins (New York)
Website and Limited Edition 12" Picture Disk
Researches the sonic experiences of space travel All sounds were recorded in Houston, made in the studio from Matthews/Parkins improvisations or downloaded from public access NASA archives.
Weightless Animals won a BAFTA for best interactive media in 2004.
---
Yasanoe Tone Collaboration

2006
Experimental Intermedia, NYC
"Origin of Geometry : An Introduction"
For text, feedback, voice, and acoustic harp
Compostion written for Zeena Parkins, premiered in a live performance at Phil Niblock's loft.
---
Live Scores for Films

1997-1999
Zeena Parkins Solo and with players (various)
Performed in NYC, Ljublijana, Slovenia and Willisau Festival, Switzerland
Maya Deren:
At Land and Ritual in Transfigured Time
Kenneth Anger:
Rabbit's Moon
Genet:
Un Chant D'Amour
---
2009
Stavanger, Norway
Group sound exhibition with Kim Gordon, Oren Ambarchi, Charlemagne Palestine, Carsten Nicolai, Keiji Haino, Pauline Oliveros, Marina Rosenfeld and others at
Tou Scene
---
after ZL FOR HF

2009
Issue Project Room, Brooklyn
"Floating Points Festival"
In collaboration with Suzanne Thorpe a performance installation for a custom built 16 channel hemispheric speaker system.
after ZL for HF
is a transcription of Hollis Frampton's film Zorn's Lemma for 16 channels a MAX patch, and 2 live players.
---
Dark Part
2007
Impuls Tanz Festival, Vienna
The Kitchen, NYC
Imbedded in Dd Dorvillier's
Notthing is Importttnatt
24-channel custom speaker installation, a darkened room and choreography
---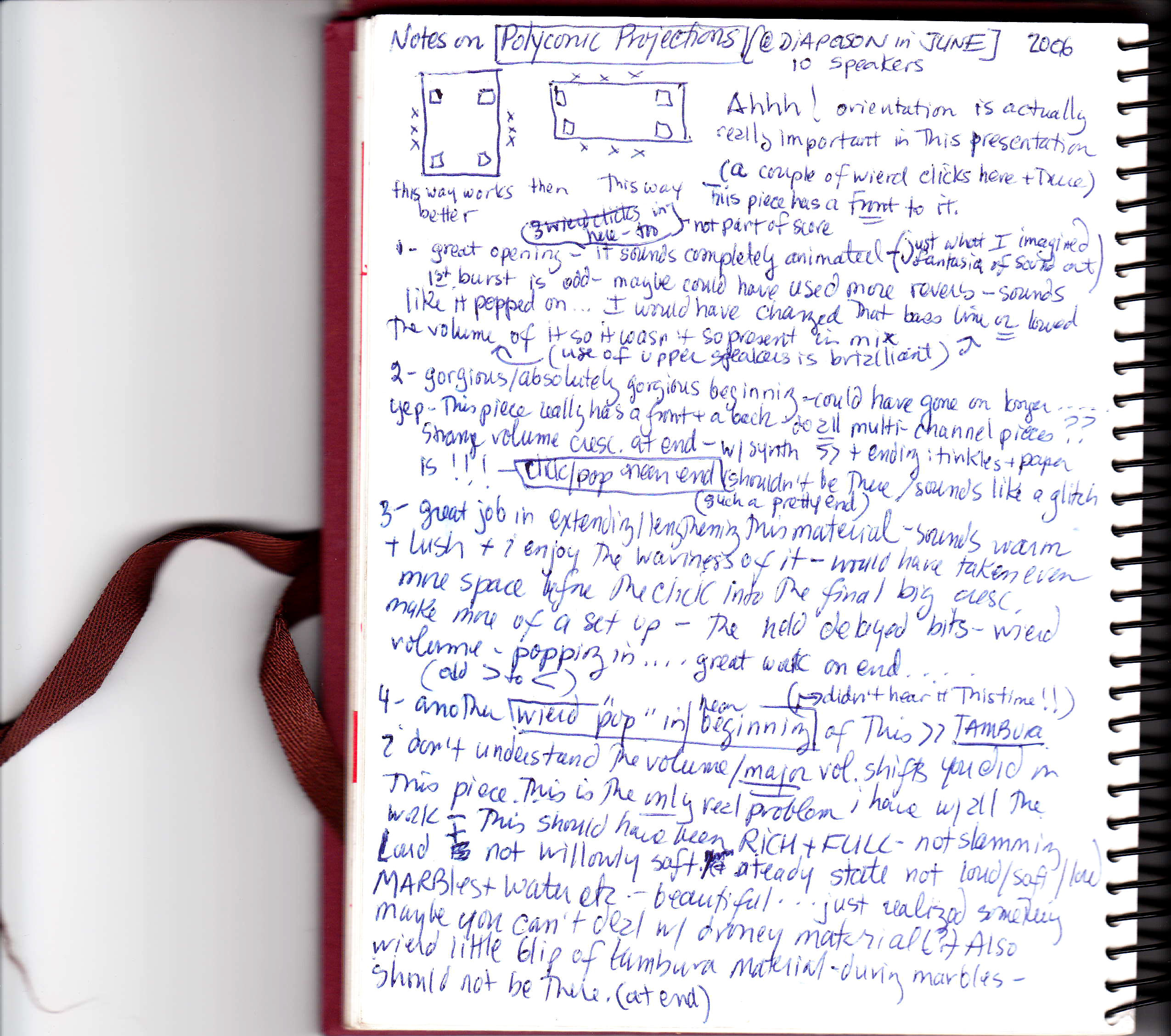 Polychonic Projections

2005
Diapason Gallery, NYC
10 Channel Sound Installation
---
2000
PS1 MoMA
Installation version of composition $ Shot
---
B-Sides: 16 Feet and Cello, HUP!, Flush, Blue Noon

Electro-acoustic compositions
16 Feet and Cello

2006, 5.17 min.
Recordings of 8 dancers rehearsing Croisees on stage in St Bruic, with cello and electronics.
HUP!

1991
5 short movements of an electro-acoustic work for samples and featuring Ikue Mori on electronics
Flush
Blue Noon
---
Janene Higgins, Zeena Parkins: Sound.Image
Janene Higgins live video mix and Zeena Parkins electric harp, melodica and objects
Performances include:
Documente X "Extempore" Festival, Kassel, Germany, 1997
Z Axis Festival, Unlimited Music, Wels, Austria, 1997
City of Women Festival, Slovenia, 1997
---
Janus Circus

Directed by Chris Wangro, some of my earliest performances in New York and Europe as a dancing bear that jumped through a heart of fire, an accordionist, a television set, a costume designer and fund raiser.
---